For a reminder of what's streaming this week (December 7–13), click here. Also, don't miss James Conlon in discussion as part of Music as Intellectual Resistance: Mieczysław Weinberg's Piano Trio, the second event of the virtual Music for Thought series, which is supported by the Consulate General of the Federal Republic of Germany in New York. Ahead of a performance of Weinberg's Piano Trio by Abigel Kralik, Julian Schwarz, and Hannah Harnest, Mr. Conlon joins Consul General David Gill for a discussion on remembrance culture in Germany and the U.S., as well as artistic creation under dictatorial political régimes. The event takes place on Thursday, December 10 at 7:30 p.m. ET. Registration required.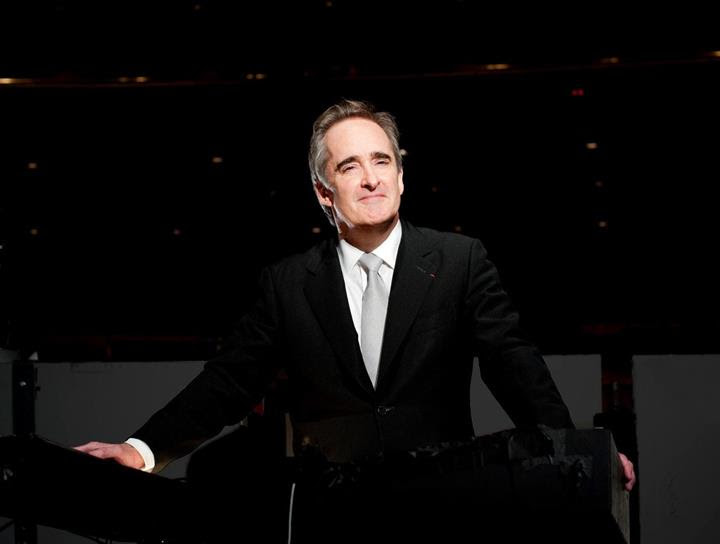 WHAT'S STREAMING: CLASSICAL (WEEK OF DECEMBER 14–20)
Tuesday, December 15 at 7:30 p.m. CT
Tulsa Opera LIVE with Leona Mitchell
Left: Composer and Tulsa Opera Artistic Director Tobias Picker; Right: Soprano Leona Mitchell
Through conversations between composer / Tulsa Opera Artistic Director Tobias Picker and luminaries in the opera world, the Tulsa Opera LIVE discussion series explores the past, present, and future of opera, including in the context of COVID-19 and its immense impact on the performing arts. In this episode, live-streamed via Zoom (and available later on YouTube), Mr. Picker speaks with Grammy Award winner and Oklahoma State Cultural Ambassador Leona Mitchell, whose long and storied career has taken her to famous opera houses all over the world, including in 18 seasons as a leading spinto soprano at the Metropolitan Opera.
WHERE TO REGISTER / WATCH: TulsaOpera.com/Live
Wednesday, December 16 at 6:00 p.m. ET (available for 72 hours)
Jonathan Biss celebrates Beethoven's birthday in
chamber program with Mark Steinberg and Marcy Rosen
Having spent the last decade immersed in the music of Beethoven, Jonathan Biss celebrates the composer's 250th birthday with an all-Beethoven chamber music program comprising the Cello Sonata in G minor, Op. 5 No. 2; Violin Sonata in A major, Op. 30, No. 1; and Piano Trio in G major, Op. 1, No. 2. Mr. Biss is joined by former Mendelssohn Quartet cellist Marcy Rosen and Brentano Quartet violinist Mark Steinberg for this live-streamed concert presented by the Philadelphia Chamber Music Society. Learn more here.
WHERE TO WATCH: PCMS' YouTube
Friday, December 18 at 8:00 p.m. CT
Minnesota Orchestra celebrates the holidays in
"A Midwinter Gathering with Kevin Kling"
Storyteller and NPR personality Kevin Kling
As part of the Minnesota Orchestra's series of live Friday night concerts presented with Twin Cities PBS (TPT) and Classical MPR, the orchestra's musicians—led by Sarah Hicks, Principal Conductor of the orchestra's Live at Orchestra Hall series—perform holiday favorites with the choir Border CrosSing, while storyteller Kevin Kling and local poets and writers share what coming together means to them in these unprecedented times. Learn more here.
These hour-long concerts, which constitute the orchestra's fall season, feature ensembles of up to 25 orchestra musicians performing programs created for at-home viewing instead of an in-person audience.
WHERE TO WATCH / LISTEN:
#ICYMI: In Case You Missed It
Shai Wosner performs sonatas by Scarlatti and Rzewski
Recorded in February 2020 in Madison, WI, this performance is an excerpt from Shai Wosner's recital program juxtaposing the 18th-century miniature sonatas of Domenico Scarlatti and the more recent Nanosonatas of Frederic Rzewski. In this video he performs Scarlatti's Sonata in C minor, K. 230, and Rzewski's Nanosonata No. 12.
WHERE TO WATCH: Salon Piano Series' YouTube
James Conlon on Tannhäuser and the Wagnerian universe
Listen to LA Opera's Music Director James Conlon discussing the deepest meanings and broadest themes of Wagner's Tannhäuser through an exploration of literature, the opera's plot, and Wagner's exquisite music. This presentation was recorded for LA Opera Connects' professional-development-for-teachers series, Opera for Educators, in October 2020.
WHERE TO LISTEN: LAOpera.org and LA Opera's SoundCloud
ATTENTION: If your publication is listing online things-to-do, please let us know about any deadlines or special areas of focus so that we can better serve you with information about our artists' activities.
# # #
Press contact:
Shuman Associates
shumanpr@shumanassociates.net | (212) 315-1300