For a reminder of what's streaming this week (November 23–29), click here.
WHAT'S STREAMING: CLASSICAL
(WEEK OF NOVEMBER 30 – DECEMBER 6)
Thursday, December 3 at 7:30 p.m. GMT
Stephen Hough in Night Under the Stars 2020
Stephen Hough is among the guest performers in the virtual, 20th annual Night Under the Stars, a charity event to help support the fight to end homelessness. The evening is hosted by comedian Rory Bremner and classical music radio broadcaster Petroc Trelawny, with special performances filmed at the London Coliseum: Home of English National Opera.
WHERE TO REGISTER / WATCH: Passage.org.uk
Sunday, December 6 at 2:00 p.m. ET (available for 7 days)
The Gilmore presents Yefim Bronfman
Live-streamed from New York's Steinway Hall, Yefim Bronfman performs two Beethoven piano sonatas—Op. 10, No. 3 in D major and the "Appassionata"—and Debussy's Suite bergamasque. With this recital, the Grammy Award-winning pianist continues his celebration of Beethoven's 250th birthday, which has also included performances of the composer's concertos with the Cleveland and Philadelphia Orchestras, the Boston and National Symphonies, and the New York Philharmonic. The suite by Debussy is also a regular part of Mr. Bronfman's recital repertoire, and his performances of the work have earned consistent acclaim ("wonderful clarity and evenness, with perfectly judged glissandi and a wide palette of keyboard colors" —The Seattle Times).
WHERE TO PURCHASE TICKETS / WATCH: TheGilmore.org
Sunday, December 6 at 7:00 p.m. ET
Mutual Mentorship for Musicians (M³): World Premieres — Part 1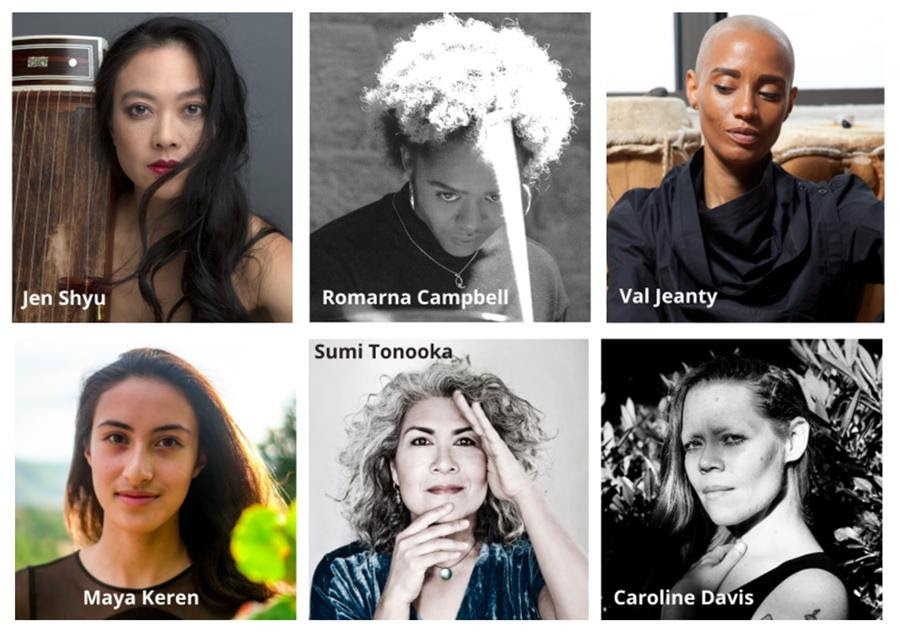 After nearly six months working together as part of the Mutual Mentorship for Musicians (M³) initiative, which fosters creative partnerships among womxn musicians worldwide, the project's inaugural group of artists reconvenes virtually for the world premieres of their new, collaborative M³ commissions, presented by the National Jazz Museum in Harlem. Each work was created by a pair of artists:
Romarna Campbell (drums) + Val Jeanty (percussion, electronics, turntables)
Caroline Davis (saxophone) + Maya Keren (piano)
Jen Shyu (vocals, varied instruments) + Sumi Tonooka (piano)
The performances, which are followed by audience Q&As, are streamed via Zoom and may be accessed for free with RSVP. Part 2 will take place on Saturday, December 12 at 7:00 p.m. ET.
WHERE TO RSVP / WATCH: JazzMuseumInHarlem.org
Sunday, December 6 at 7:30 p.m. ET (available for 23 hours)
James Conlon conducts Puccini's Tosca in The Met: Live in HD encore broadcast
In this classic 1978 Tito Gobbi production of Puccini's Tosca, conductor James Conlon leads a stellar cast including Luciano Pavarotti as Cavaradossi, Shirley Verrett as Tosca, and Cornell MacNeil as Scarpia. The Metropolitan Opera makes this performance available as part of its Nightly Met Opera Streams initiative.
WHERE TO WATCH: MetOpera.org
Minnesota Orchestra at Home
Excerpt from Beethoven's Symphony No. 1 on recent program in
Minnesota Orchestra's digital concert series, This Is Minnesota Orchestra
Minnesota Orchestra at Home shares video, audio and educational materials through the categories of Watch, Listen and Learn, including videos from the Orchestra's archives and newly-created "mini-concerts" directly from the homes of Orchestra musicians. Stay tuned to the Minnesota Orchestra web site and social media channels for a steady stream of new content.
WHERE TO WATCH / LISTEN: MinnesotaOrchestra.org/AtHome and Minnesota Orchestra's Facebook, Instagram, & Twitter
#ICYMI: In Case You Missed It
Jennifer Koh kicks off digital residency at Library of Congress
Last week, to open her Library of Congress digital residency, Jennifer Koh performed two commissions from the Library's McKim Fund—Julia Wolfe's Mink Stole and George Lewis's The Mangle of Practice—alongside new pieces from her acclaimed commissioning series Alone Together.
WHERE TO WATCH: LOC.gov
Tulsa Opera's 'Baseball Rigoletto'—filmed before a
live audience at ONEOK Field baseball stadium
Pictured (clockwise from top left): Morris Robinson as Sparafucile, Todd Thomas as Rigoletto, Joshua Wheeker as the Duke of Mantua, and Sarah Coburn as Gilda
Tulsa Opera's 'baseball Rigoletto' was filmed before a live, in-person audience at local baseball stadium ONEOK Field. This performance, which originally took place on Friday, October 9, was the first staged grand opera production in the U.S. since the coronavirus outbreak.
Tulsa Opera Artistic Director Tobias Picker re-envisioned Verdi's Rigoletto to run 85–90 minutes without intermission. He invited Tulsa native James Robinson to direct the production in his company debut—taking the baseball diamond as his stage, with the court jester Rigoletto cast as a lowly team mascot, the Duke of Mantua depicted as a cocky star pitcher, and the hired killer, Sparafucile, as the umpire.
WHERE TO WATCH: Tulsa Opera's YouTube
ATTENTION: If your publication is listing online things-to-do, please let us know about any deadlines or special areas of focus so that we can better serve you with information about our artists' activities.
# # #
Press contact:
Shuman Associates
shumanpr@shumanassociates.net | (212) 315-1300